About the team at First Vets Whanganui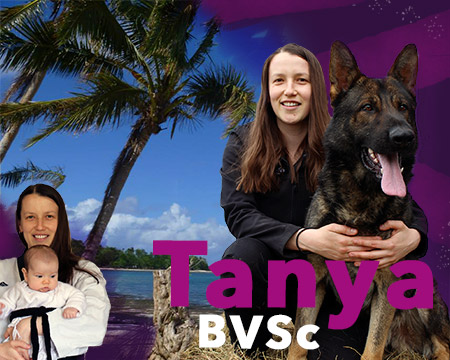 BVSc (Veterinarian)
Meet Tanya, a veterinarian and a director of First Vets! Tanya completed her veterinary studies at Massey University in 2012, and has worked in mixed practice prior to embarking on the journey of establishing First Vets. Along with her family, she is proud to call Whanganui home.
The variety that veterinary work brings is a major highlight for Tanya – no two cases are ever quite the same! She loves to work with owners as much as with their animals, and believes professionalism, good communication, and empathy are an integral part of being a great veterinarian. Her special interests include all aspects of surgery, post-surgical rehabilitation, preventative medicine, nutrition, and veterinary volunteer work abroad.
Tanya's non-veterinary passions include martial arts, health and fitness, travel, and languages. She loves to spend her spare time with family and friends, and to keep active! Tanya's much loved animal family includes Falcon the working line German Shepherd, Taimana the rescue dog, Kaos the naughty tortie, and Archer and Lana the "twin" black rescue cats. There's also a few sheep running around the paddocks!
As a vet, a business owner, and a mum, Tanya is proud to be a representative of the changing face of the veterinary profession. She looks forward to providing exceptional customer service and professional services, as well as working together with the fantastic First Vets team to provide our community with excellent veterinary care.  See you at First Vets soon!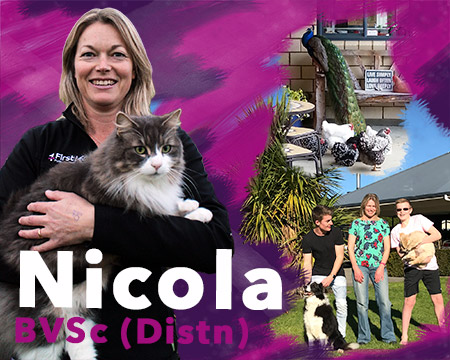 BVSc (Distinction)
Nicola is one of those rare people who knew what she wanted to do from a very young age.  Born and raised on a sheep & beef farm in Southland, Nicola was introduced to the importance of animal health at a young age.  After moving to the North Island to undertake her veterinary study at Massey University in 1987; the warmth of the North was too appealing, and so she moved to Whanganui in 1991,  initially working as a mixed animal veterinarian, before developing her interest in small animal clinical practice.  Nicola went on and established the VetCare Veterinary Nursing training in Whanganui which she successfully ran for 15 years, while also continuing to practice as a vet.
As directors, Nicola and Tanya share a common interest in building a business that delivers outstanding customer service, has a preventative focus towards animal health and welfare, offers Whanganui animal owners a real choice, and importantly, is a fun and inviting place for customers and colleagues.  Nicola's special interests include small animal medicine, diagnostics and education.  She is also privileged to be involved in helping with the selection of students into the BVSc programme at Massey – giving back to her profession in different ways is important to her.
Family is central for Nicola, with her two boys, a household of pets and her husband, spare time is at a premium.  You may see her running with Max (the Border Collie), garden shopping, or taxiing her boys to the next event.
Nicola is looking forward to welcoming you to First Vets soon!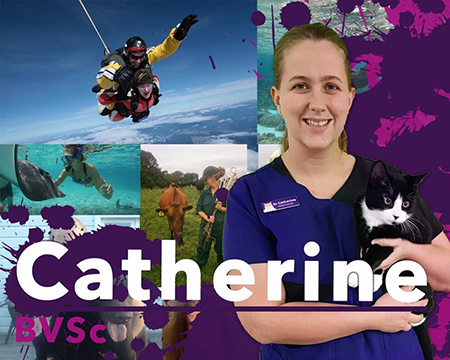 BVSc
Meet Catherine, one of our awesome veterinarians! Originally hailing from Otago, Catherine had a very interesting childhood. At age 8, her family moved overseas and she completed her schooling years in China and Kuwait. From a young age, Catherine knew she wanted to be a vet, and returned to New Zealand after high school to start vet school. After graduating from Massey University in 2013, she initially moved to Taranaki to work in mixed animal practice. There, she met her husband and joined him on his fourth-generation family farm just outside of Waverley.
The variety and unpredictability that veterinary work brings is just one of the reasons Catherine loves being a veterinarian. Catherine loves being able to make a difference to patients' lives, and to build relationships with clients while working with them to ensure their animals receive the best possible outcome. She also appreciates the challenges veterinary medicine brings – if only animals could tell us themselves what is wrong!
For Catherine, it's hard to narrow down her favourite areas of veterinary medicine – however, preventative health, diagnostics, surgery and education are areas of veterinary medicine she is passionate about.
Catherine can often be found out on the family farm, where she is a self-appointed boss of all things related to animal health! She is actively involved with Young Farmers and enjoys taking opportunities to try new things – from sky-diving, to recently learning how to ski. Catherine also enjoys travelling, strategic board-games, and spending time with family and friends.  Her animal family includes two Labradors (Bear and Cru), Felix the cat, George and Mildred the miniature kunekunes, four special sheep, and many named pet cows and calves.
Catherine is excited to be a part of the First Vets family and is looking forward to meeting many more of our clients and their pets!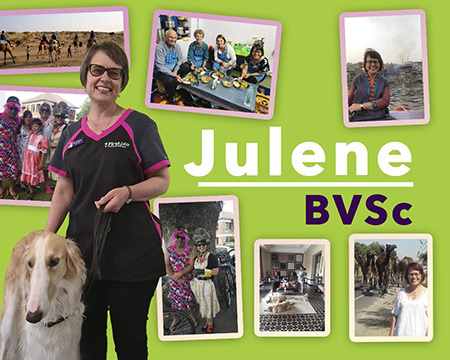 BVSc
Meet Julene, a wonderful addition to our veterinary team!
Julene was born in Whanganui and attended school here, after which she completed her veterinary studies at Massey in Palmerston North in 1994, graduating with distinction. Since graduating, Julene has worked in veterinary practices in various locations around New Zealand. Most recently, she has been locuming as a companion animal vet in the lower North Island, and has enjoyed picking up tips from different clinics while furthering her skills and knowledge.
As a veterinarian, Julene loves the variety that veterinary work brings, and that there is always something new to learn in her job. She enjoys challenging herself to always do things better, whether that involves improving pain management techniques, learning new surgical or medical techniques or finding new ways to make things easier for animals and their owners. Julene is passionate about always learning and improving, and helping people to help their animals. In her non-veterinary life, Julene is passionate about conservation and the environment. Julene's hobbies include riding her bike, walking, going to the gym, going to cafes and restaurants, quizzes, travelling, listening to music, going to shows, and reading and researching.
Julene also has a 10 year old son named Eli whilst Milo, Milly, and 2 red shaver chickens make up Julene's animal family. Milo was rescued from a bin in Auckland and brought to Wanganui and rehomed to Julene's family – he is very accident prone! Recently, Milly the 9 year old Cavoodle also joined the family – she is a great walking companion. The 2 red shavers are impressive egg producers and help with the compost production.
Julene considers Whanganui a great place to live and is excited about coming back to work here and seeing you and your animals soon!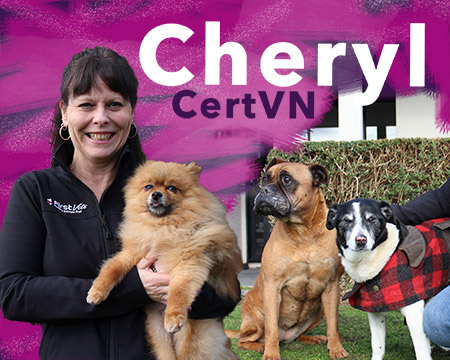 Cert VN (Veterinary Nurse)
Meet Cheryl, another one of the awesome veterinary nurses in the First Vets team! Cheryl has lived and worked in Whanganui most of her life, and brings a wealth of career and life experience to our team. Her veterinary nursing career began in 2005 and since then she has continued to expand her skills in the profession she loves.
It's hard for Cheryl to pin down what she likes best about veterinary nursing – because she loves it all! From the interaction with clients and their animals, to the teamwork, and the technical aspects of nursing, Cheryl's passion and dedication shines through and she's always ready to go the extra mile. Her special professional interest is surgical nursing.
Cheryl has always loved animals, and this means she finds her line of work extremely rewarding. In her down time, Cheryl loves to be around family and friends, whether out on adventures or just relaxing at home. Her treasured animal family keeps her very busy – between 3 dogs, 3 cats, a very cheeky rainbow lorikeet, and some goldfish, it is clear her love of animals doesn't stop at work!
We know you will feel taken care of by Cheryl, and she looks forward to meeting you soon!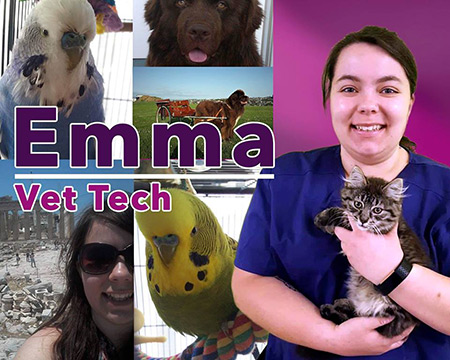 BVetTech (Veterinary Technician)
Meet Emma, our enthusiastic veterinary technician! Emma was born and raised in Hamilton, and moved to Palmerston North in 2016 to complete her Bachelor of Veterinary Technology (BVetTech) degree. After a short time back in the Waikato, Emma moved to Whanganui to join the First Vets crew.
There are many areas of being a veterinary technician that Emma enjoys. In particular, building trusting relationships with patients and clients is important to Emma, and she loves to see patients leave the clinic happy and healthy! On the technical side of the job, Emma particularly enjoys anaesthesia, and hopes to join the AVTAA (Academy of Veterinary Technicians in Anaesthesia and Analgesia) in the future. Emma loves the new challenges that each day in the clinic brings, and that you never quite know what type of case is going to come through the door next!
Emma is passionate about tailoring veterinary care individually to each patient's needs and ensuring they are comfortable while in the clinic, no matter how long their stay may be. Avian and exotic pets are an interest of Emma's, and she looks forward to furthering her knowledge in this area as she develops her career.
In her spare time, Emma enjoys arts and crafts, attending Speedway, participating in dog club events and shows with her Newfoundland Hudson, and spending time with her friends and family. Overseas travel is also an interest of Emma's. Her animal family includes Willow and Elmo, the gorgeous Mini Lop rabbits, and of course Hudson, the Newfoundland. In the past, Emma has owned budgies (Rio, Cooper, and Cheeko) and has loved the personality quirks of each bird that made them unique!
Emma is excited to launch her career with First Vets, and looks forward to meeting you and your animals!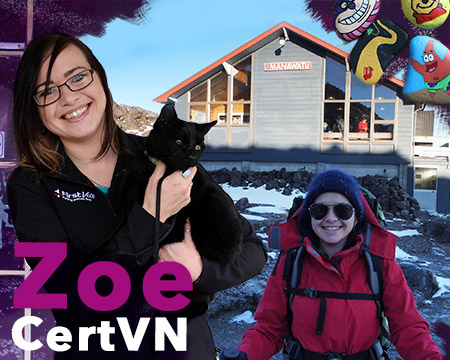 Cert VN (Veterinary Nurse)
Meet Zoe, one of the awesome members of our veterinary support team! Zoe grew up in the Whanganui area and resettled here after working, travelling, and studying elsewhere in NZ and overseas. The scenic surroundings that this area provides are something that Zoe and her family very much enjoy. Zoe completed her veterinary nursing qualification in 2008, and has since then expanded her professional skills both through employment and voluntary work.
For Zoe, favourite parts of the job include interaction with clients and their animals, forming bonds with her patients through gentle animal handling, and the challenges of surgical nursing. Zoe loves to work as part of a team, and to contribute her skills and experience to benefit both her team members and clients.
Conservation, animals, music, the arts, and literature are some of the things Zoe is most passionate about. In her spare time she enjoys exploring the outdoors with her family, painting (recently this includes some amazing rocks!), visiting the theatre, and other pursuits related to the arts. Her animal family includes Onyx and Marble (both 8 year old cats, adopted at just 4 weeks old!), and Charlie the budgie.
Zoe loves seeing animals and their owners going home happy and knowing they have been provided with excellent care and service, and is excited to meet you and your pets!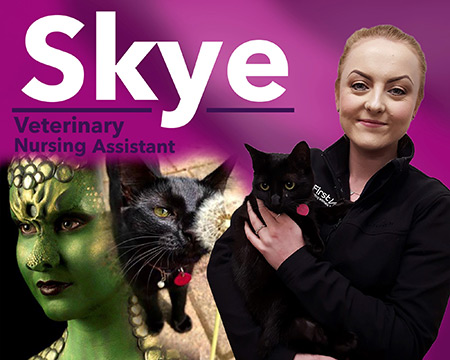 Meet Skye, our very enthusiastic veterinary nursing assistant, and friendly face at the front desk. Skye is originally from Littlehampton, England and moved to New Zealand in 2005. After finishing school, Skye studied in Wellington before moving back to Whanganui and completing her Veterinary Nursing Assistant qualification.
One of Skye's favourite parts of veterinary clinic work is patient care and monitoring, particularly in a surgical setting. She is passionate about pets having the best possible outcomes during their time in the clinic, and being part of the team that makes this happen.
Being around family and extended family is very important to Skye, and she is passionate about doing her best in her work and taking all opportunities to learn, and expand her professional skills. Skye's hobbies include makeup artistry, for which she has won WelTec's People's Choice award previously. In her spare time, Skye enjoys travelling, watching movies, and spending time with her cat.
As well as Pixie, the cat who rules the roost, Skye's animal family also includes three axolotls named Buttermilk, Wasabi, and Tequila.
Skye has known she wanted a career that involved animals from a young age, and says her "Aha!" moment came about one month before starting her Veterinary Nursing Assistant qualification, when she finally realised that a career in a veterinary clinic is right for her. With Skye's extensive customer service experience, we know you will be well looked after. Skye can't wait to meet you and your pets!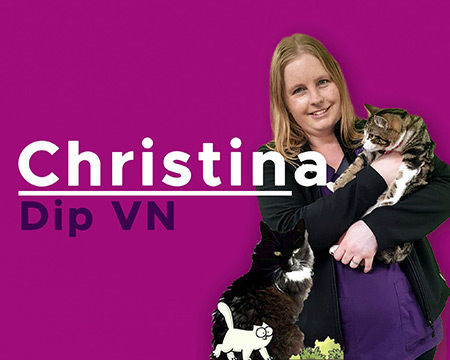 Dip VN
Meet Christina, one of the friendly faces at our front desk. Christina has been with us on a casual capacity for a few months, and more recently took on permanent hours. Christina grew up in a small
suburb in Christchurch with her parents, older brother, a budgie named Thomas, and a beautiful polydactyl tortoiseshell cat named Paddles. From an early age, Christina knew she wanted to work
with animals. After finishing school, Christina pursued training as an international flight attendant, and five years later took on study to become a veterinary nurse, first gaining her certificate, and
then a diploma in veterinary nursing.
For Christina, there are many wonderful parts of being a veterinary nurse, but she finds being a voice for her patients that don't have one particularly rewarding. Christina is passionate about animals of
all kinds, aviation, and furthering her knowledge whenever she can. In her spare time, Christina enjoys relaxing with a good book, hoola hooping, and making photo books for her family.
Christina's precious 15 year old cat Socettes lives in the Marlborough Sounds with her parents, and her favourite thing to do is lay in front of the fire on cold days or go on long bush walks with
Christina's parents.
Working at First Vets has been extremely enjoyable for Christina, and she has loved getting to know you and your animals! She looks forward to seeing you again soon!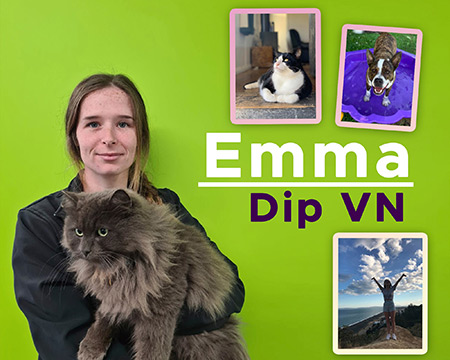 Dip VN
Meet Emma, an enthusiastic member of our nursing team! Emma grew up in Horowhenua, but moved to Hawkes Bay to study veterinary nursing, where she completed her diploma in 2019. Emma
has now relocated to a farm in the Whanganui area to continue her veterinary nursing passion.
Helping sick or injured patients recover and go home to their families is a very rewarding part of the job for Emma. She also loves being able to pass on knowledge and help educate clients.
Emma has always been passionate about caring for animals and people. Growing up on a small farm she was always outdoors and finding ways to help her family out. In her spare time, Emma enjoys
being out on the farm or finding new adventures with her friends.
Kazza the fat cat, Yorkie the rescue dog (who loves to talk back) and Maverick and Deborah the family working dogs make up Emma's animal family.
Emma looks forward to meeting you and your animals in the clinic, and hopes to see you soon!