Puppy Pre-School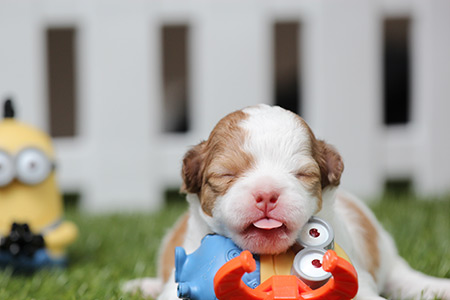 Whether you are a new dog owner or simply wishing to refresh with a new pup, our puppy pre-school classes are a good place to begin your pup's wellness plan for life.
We run the classes in the clinic to get your pup used to the smells in a vet clinic and allay any fears. This 5 week course is managed and run by our qualified veterinary nurses.
The aim of the Course is:
To socialise your puppy
To provide basic puppy training instruction
To provide client education on dog ownership
Before starting the course the puppy must:
Be at least 8 weeks of age and no older than 16 weeks (on the date of the first class)
Have had their first DHP (Distemper, Hepatitis, Parvovirus) vaccination at least 7 days prior to their first class attendance
Not have been sick or coughing in the week prior (unless veterinary clearance obtained)
Have attendance confirmed by the instructor and course fees paid in full
Cost for the 5 week course is $80 including your Puppy Kit, which has lots of helpful information as well as discount vouchers for puppy food.
On the evening of the class, please do not feed your puppy, be on time, and remember to have your pup on a lead.
Contact the First Vets team today, phone 0800 1 Vet Now or email us here.
What some of our Pre-School customers have been saying…
"It was well planned, something new to learn each week. It is a great introduction class to learn the basics of being a good dog owner. The girls were so helpful and always friendly and approachable."
---
"It was fun, informative, and a great introduction in how to train and look after a puppy. All the free gifts were awesome as well. We had a good time and got useful training tips and information. Having never owned a dog before it gave me and my children a lot more confidence in handling our puppy."
---
"Made to feel welcome as soon as we came through the door. Good number of dogs attending the class, not too big a class. A good range of topics covered, and questions always answered. Great range of giveaways throughout the course. Good having indoor and outdoor sessions. Emma and Skye were very good and very approachable."
---
"Classes were structured and focused on supporting the parents of the pups to work through the various elements of puppy training and looking after a new pup – no matter the size or breed. The various freebies were a surprise and were very much appreciated. Emma and Skye know their stuff, they were happy to answer questions and created an atmosphere where pup parents could ask open questions and share challenges and there were always various answers or solutions to anything that the pup parents were dealing with."