Welcome to our Boarding Cattery
"In ancient times cats were worshipped as Gods; they haven't forgotten this" Terry Pratchett
We have a new purpose built cattery designed with your furry friends in mind. What better place to board your cat while you are away than at a veterinary clinic, especially if your cat requires medication or has any current medical conditions.
A vet is available 7 days a week to quickly address any problems that may arise during your pet's stay, with a member of our qualified team attending to them daily.
Please note that due to heavy demand during the Christmas/New Year period and Easter weekend, we require a 50% (non-refundable) deposit to be paid at least 4 weeks prior to your cat beginning their stay.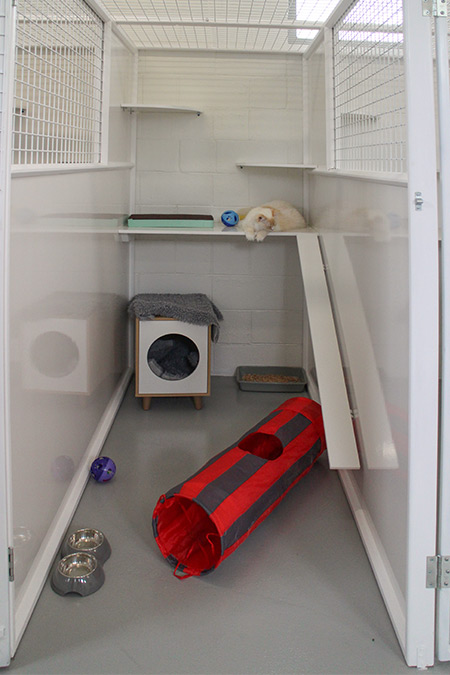 Housing
Each cat has its own individual suite suitable for 1-2 cats. We believe that individual suites reduce stress when cats are kept together in closer proximity than they are normally used to.  Unlike dogs, cats are not usually pack animals, so they prefer their own personal space, and keeping them separate reduces potential for fighting injuries. To further reduce stress for your cat, our suites don't face each other. They are roomy and designed vertically so that your cat may enjoy jumping and climbing up. The cattery is light and open, with modern air conditioning installed. Each suite has its own scratching pad and hidey-hole beds. We also run Feliway diffusers which release a synthetic feline pheromone proven to have a calming effect. While runs are being cleaned we have an exercise area especially designed with your cat's needs in mind, and will always provide hugs and cuddles for free 🙂
Please do not bring beds, scratch poles or bedding from home due to the possibility of viruses, bacteria or parasites getting into our cattery.
Veterinary Care
When you arrive at the clinic with your cat, we will provide a brief health check with one of our friendly team. During this short health check we will confirm their vaccination records and apply a flea and worm treatment if necessary. We require that all cats have finished their vaccination programme at least 10 days prior to entry into the cattery, or if annual boosters are due, this can be arranged to be done during your cat's stay.
While your cat is staying with us, if they require grooming, dental scale and polish, or nail clipping, this can be arranged at the initial visit or when your pet is booked in for their stay.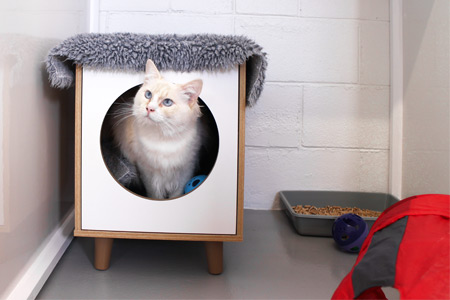 Feeding
Your cat is fed twice daily, unless requested otherwise by you or for medical reasons. We feed Royal Canin dry kibble which is a small sized kibble that is highly palatable and nutritious. Life stage diets appropriate to the age of your pet will be fed and for those fussy few, wet food options will be tried.
If your cat has specific dietary requirements, please bring food for them to last the duration of their stay. Any prescription diets can be purchased at the clinic.
Water is refreshed at least twice daily, and topped up as required to ensure it is available 24/7 to your pet.
Admission Times
Please call us and book an admission time for your cat. We do require a booking before drop off.
Our admission times are:
Weekday mornings 8am to 10am
Weekday afternoons 2pm to 3pm
Saturday mornings 9am to 10am
Discharge times are by arrangement only.
Please note we are not open for admissions and pick-ups on Sundays or Public Holidays.
Prices
Boarding is based on a calendar day at $15 per cat or $25 for 2 cats housed in the same run (maximum of 2 cats in one run)
There is no extra charge for public holidays.
Worming or flea treatment will be charged extra if your cat needs this on entry to the cattery.
Medications will be administered at no extra charge and cuddles are free 🙂
Please note Diabetic Cats boarding will be charged an extra $10/day.
If your cat requires veterinary attention whilst being boarded, you are responsible for any charges incurred.
We invite you to view and complete all pre-entry paperwork (including reading our full terms and conditions) at the time of booking your cat's stay, or at least a week prior to boarding. Viewing of our cattery is welcome, please phone our friendly team to make an appointment to do so. We look forward to seeing you soon!