Our services under the Traffic Light System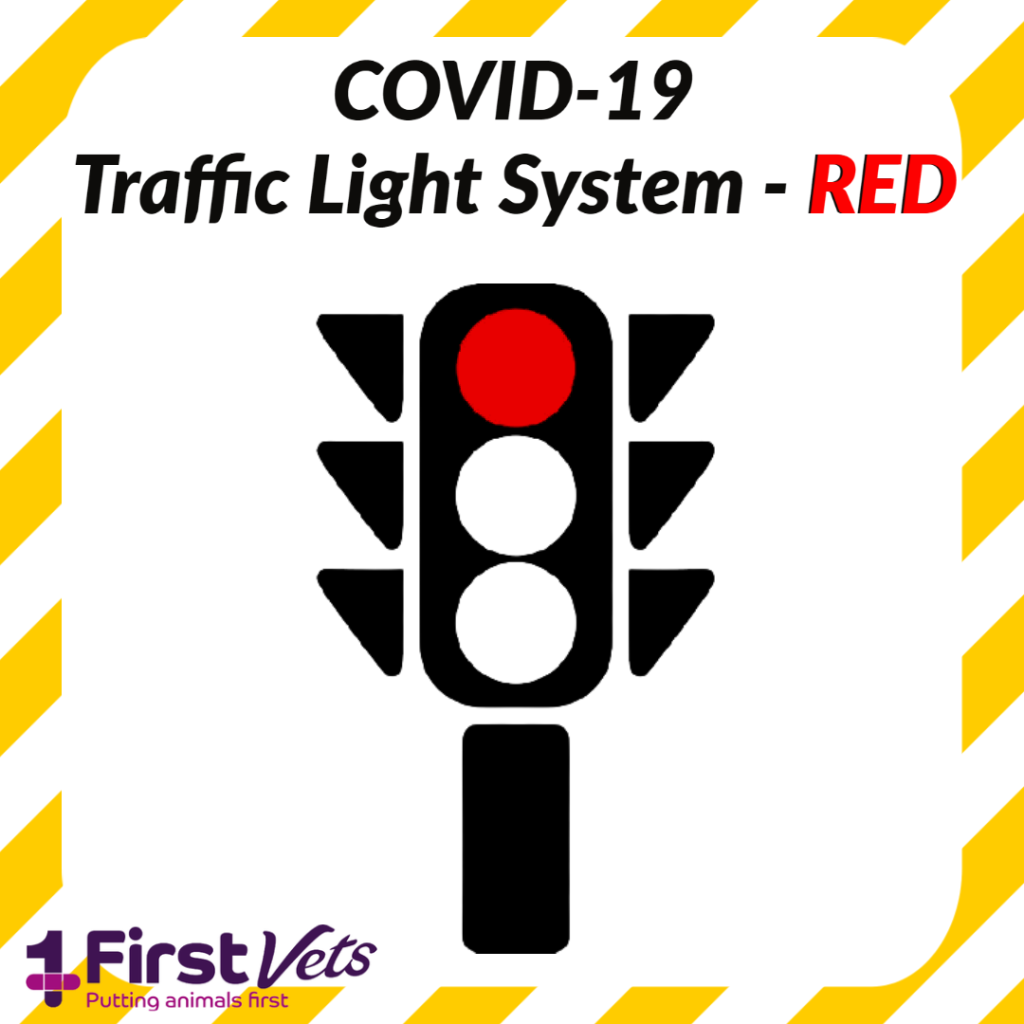 🚦 With the recent government announcement of a change to COVID-19 Traffic Light System – Red, we are sharing with you what our services will look like under the Red Traffic Light.
At the Red Light, there is no change to our opening hours.
Our hours will remain as follows 8am-5:30pm Monday to Friday, and 9am-12:30pm on Saturdays, with the following protocols:
First Vets is an essential service, and we love welcoming your pets into our Clinic.
However, we must now change the way that we work to meet the Government Health Order Guidelines and to slow the spread of Covid-19 in our community.
Our retail area will remain open to all clients. We strongly encourage clients to email orders through to

[email protected]

or shop online here, when in-store always wear a mask (unless you have proof of exemption) and maintain a 1-metre distance between other customers.
Our new indoor cattery is open to bookings for all cats, and our reception team will assist with any drop-off and or pick-ups.
Likewise, grooming is open for all dogs. Please drop your pet off either with reception or directly with Lynne.
Under the current traffic light guidelines, entry into our consultation or meeting rooms is now limited to fully vaccinated clients or those with proof of a negative COVID test in the past 72hours. You will need your vaccination pass to be checked at reception.
For consultations there can only be ONE person with your pet in the consult room – if you are bringing multiple pets this may require additional appointments, please tell us when you are making the booking.
No children under the age of 12 can be allowed into a consult or meeting room.
For all other clients, if your pets are unwell or require vaccination, we will be providing a drop off service for your pets at our front reception, with telephone consults being available, this is the same non-contact service we provided under Level 3.
Lastly, please be considerate to our team, we appreciate that this may be a difficult and stressful time – we are here to help you and your pets within the guidelines provided to us. We don't want to get into a position where we can't see your sick animals because our lovely Vets, Nurses, and Support Staff are sick or self isolating 💜